Show Download History Menu Item
Introduction
The objective of this menu item is to show a logged on User which downloadable files they have downloaded.


The picture opposite is a typical

download h

istory for the current logged on user as would appear in the main component area.

In this example it was set to show 5 entries/page.

It shows the Title of the Download as a link followed by the actual file name, the file sizeand then,on the righthand side, the date the download occured.

History Menu Item
To see the Download History we create a new menu item in a menu of our choice. In this example it is in the Main Menu.
Go to

then

. Then click on the

button.



Then in the
tab use the

pull down button to choose the jDownloads option.


Next click on the List My Download History item.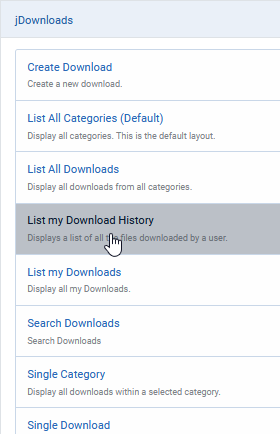 As shown opposite give the Menu Item a Title and ensure it is Published.

Please note as it is only possible to track logged on users then set Access to Registered.

This menu item will only be seen by logged on users, so setting its Acees to Registered aviods frustration for Public or Guest users.

If you do leave it as Public Access then jDownloads will redirect to a logon page.
The jD specific setup fields are on the 'List Layouts' page.

Whilst you may use the pulldown

to select the required setting it is probably best to leave them at 'Use OptionSettings'.
The options will then be selected from the jDownloads Options as noted below.

1. Date Format - Global Settings;

2. Downloads order - Frontend - Default Sort Order section;

3. Sort Order Bar - Frontend - Header Sort section;

4. Tags;

5. whether or not to show Pagination;

6. Pagination Summary;

7. Number of Downloads per page - Frontend - Items per Page section.


Colin M, September 2020, modified July 2023