Using jDownloads Search
Introduction
This article is about the 'simple' Search. A separate article is in preparation for the Smart Search.

The search plugin is very simple to configure and use. It is automatically installed when the jDownloads Component is installed.




There are only two parameters of any significance, one is the Access Level, and the other is the maximum search depth.


The default settings are usually sufficient.

It is of course essential to enable (publish) the plugin.
Searching
Searching is initiated from the Front End by clicking on the search button

.
Search Criteria
Search offers three criteria on how the search keywords are to be used:

1. the search must find those downloads with all of the specified words;
2. find those downloads with any of the words;
3. only find those downloads with an exact match to the entire phrase.

The search 'region' may be any combination of:
1. the Download title;
2. in either the Short or Long Descriptions;
3. in the Changelog;
4. the Author's name;
5. the Meta-Tags.


Note that the search key words are case insensitive.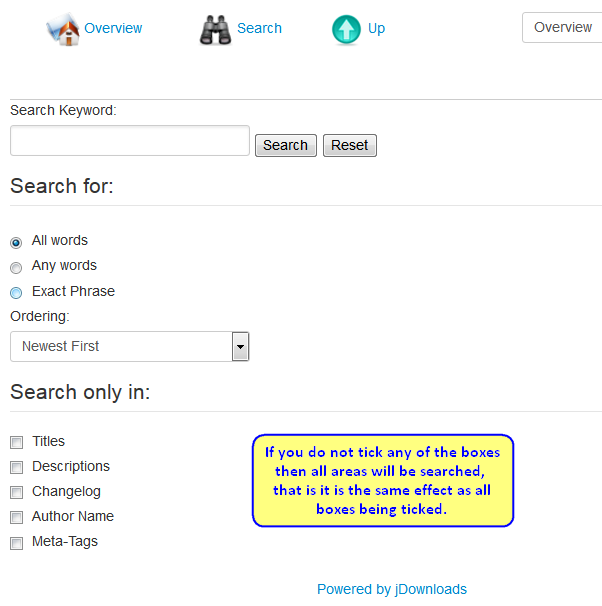 For example if the search words were 'adams sonata' then this could be a search for Sonata For Trumpet And Piano by Prof. Byron Adams where 'sonata' is in the title and 'adams' is in the Author field.
Search Results Ordering

There is also a selection of the order in which the results are to be presented.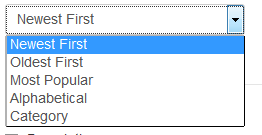 When searching jDownloads will report how many Downloads meet the search criteria.

Note that if a particular word is found multiple times in the same Download it only counts as one in the total.


Example
In this example there were two matching downloads.

The view on the right is the 'summary' whilst the view below is the result list of matching Downloads appended to the search.

Clicking on the names, in blue if using the default search template, will take the user to the specific download.

Using the same search when logged in may produce more results.

Some Downloads are visible for everyone, that is they have an Access Level of Public.



Others have a different Access Level so those user groups will see those with their restricted Access Level as well of all of those of other user groups to which they have an implied membership.
Each Download title becomes a link, either directly or indirectly, to the Download. What happens when clicking on the link depends on the Front End option settings. See
Front End Options
for more details.

ColinM Rewritten Feb 2019, revised August 2020
Tags: index