Showing Modules in Tabs
Maximise information. Save space. Show all in Tabs!
The jDownloads modules provide a very useful source of information for users. If you are showing several modules they do take up space on the page.  So which module is best to show?  This is an almost impossible question to answer for all users.
The solution is to show the jDownloads modules in a suitableTab module. In this article the free Gavick Pro module "Tabs GK5" was used as it was simplicity itself to use.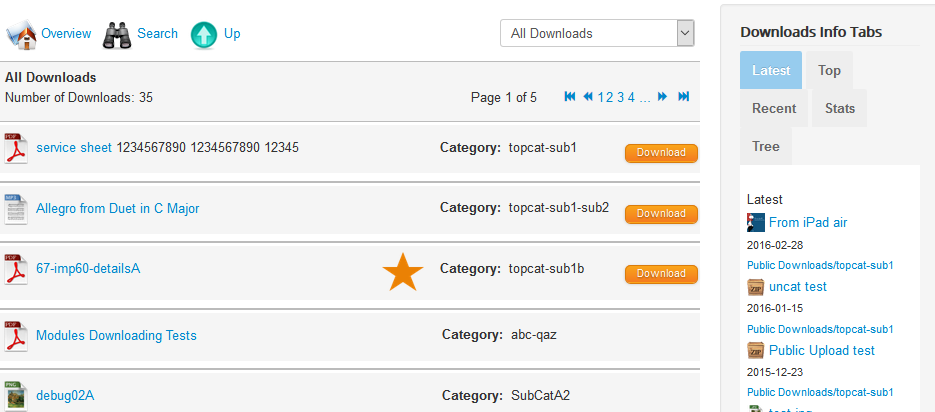 Obviously one just clicks on the appropriate tab to show the relevant information as illustrated below. The Tree module is particularly useful in the Tabs.
As noted earlier in this article the free Gavick Pro module "Tabs GK5" was used.

Each Tab when created in Tabs GK5 can be set to host a module.  One selects which Tab Position in Tabs GK5, which are named as tab1, tab2 and so on. 

Then go to the relevant jD module and set its position to tab1 or tab2 or similar as appropriate so the result is like that indicated opposite
Relevant text was added to the 'Before' section of the main jD modules, regretably this text does not support embedded HTML,
but then its not too much of an ommission, rather a 'just nice' to have.
There was only one styling issue where the GK5 Tabs module has a broken underline as illustrated opposite.

This was quickly fixed using the css below in jd_custom.css (NB the .well part is template specific)

.well .gkTabsWrap.vertical ol{
border-bottom:none;
}

Colin Mercer March 2016