Single User Access
jDownloads supports Downloads that have access restricted to individual users.
To demonstrate this facility accounts for two users, Colin Smith and David Jones, were created. These users are to have Downloads that are restricted to themselves. The Downloads were created in the front-end by a regular 'uploader'.



In the User Groups Settings - Group Creation/Editing Settings there is an option in the Publishing section to select Single User Access



When creating a new Download in the front-end this shows the Single User Access pulldown.


As illustrated opposite, using the pull down allows selection of the user who is to have sole front-end access.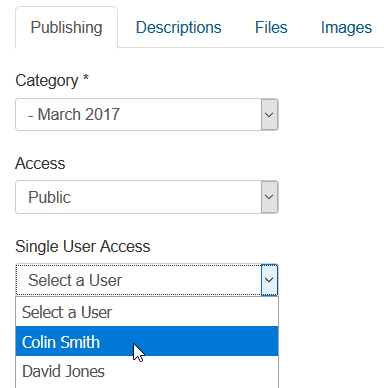 In this example four Downloads were created as noted below.
| | | |
| --- | --- | --- |
| Title | Seen only by | Single Access set? |
| "Publically available" | everyone | No |
| "David Jones only" | David Jones | Yes |
| "Colin Smith doc only" | Colin Smith | Yes |
| "Another Colin Smith doc" | Colin Smith | Yes |
The pictures opposite illustrate who has effective "view access" in the front-end.
To further illustrate the abilities of 'Single User Access' all the Downloads in this example were created in the same category.
Even the Super User cannot see the 'Single User Access' Downloads in the front-end.
In this example when the Downloads were created the Joomla! Access was set to Public.
However if jDownloads detects that 'Single User Access' is set then the Joomla! Access is reset to Registered
automatically
during the Save.
This occurs irrespective of which Access Level is selected during either the editing or creation of a Download in both the front-end and the back-end.

In the back-end it is simple to see who has 'Single User Access' because jDownloads automatically sets the Joomla! Access level to Registered.
First use the Search Tools and set 'Select Access' to Registered.
This will show all the 'Single User' Downloads and of course any other Registered Download.

So then click on the

Access

column to sort.



Colin Mercer 18 June 2019